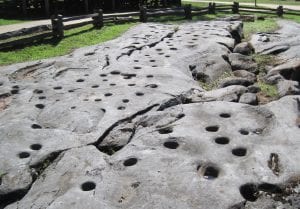 Indian Grinding Rock State Historic Park is located 8 miles east of Jackson, California, in the Sierra Nevada foothills. The beautiful 135-acre park, with its open meadows and large valley oaks, is a living history of the Miwok populating the area. Chaw'se is the only State Park in Amador County.
The park is named for its chaw'se, a "grinding rock" of marbleized limestone with 1,185 mortar holes, the largest collection of bedrock mortars anywhere in North America. The Miwok used the chaw'se for thousands of years to grind acorns for food. The chaw'se also features 363 petroglyphs (carved images), 2,000 to 3,000 years old.
Other Things to Do and See
Indian Grinding Rock State Historic Park features a reconstructed Miwok village with bark houses (u'macha) and a large ceremonial roundhouse (hun'ge) as well as a reconstructed game field.
Near the grinding rock, a picnic area with a shade ramada can accommodate groups of up to 150. You do not need reservations for the picnic area. There is also a small picnic area next to the museum. Please don't use campsites for picnicking.
Trails provide access to explore the meadows and surrounding forest. The park maintains a garden of native plants used by the Miwok for a variety of purposes, from food to healing and more.
Indian Grinding Rock State Historic Park also features the Chaw'se Regional Indian Museum which represents twenty different local tribes. The museum features a variety of exhibits, an outstanding collection of Native Californian cultural items, and a bookstore/gift shop.
The park offers public and school tours, as well as camping facilities.
Visitors to Indian Grinding Rock State Historic Park can see how Native Californian people lived long before Europeans arrived. The structures at the park were built for use by the Miwok and other Native Californian people as part of their continuing cultural life. Chaw'se is not just an historic site, but a vital, ongoing part of Miwok tradition. The park's bark houses, roundhouse, and other features are reminders of the Miwok culture, languages, and traditions that live on to this day.
Every year, the Roundhouse serves as the focus of traditional dances and ceremonies held by local Miwok and other California tribes, most notably in the May Chaw'se Day Celebration and the September Big Time celebration.


Administration
Indian Grinding Rock State Historic Park is administered by the California Department of Parks and Recreation, and overseen by Lee Eal, Curator, and a small staff.
Volunteering at Indian Grinding Rock SHP
Get involved! Become a trained volunteer. We need your help to lead school tours, staff events, help in the museum store, gardening, and more. Contact the park at (209) 296-7475 or Lee.Eal@parks.ca.gov
Accessibility 
California State Parks support equal access.
Camping - One family campsite and one restroom are accessible.
Picnicking - Tables are accessible.
Exhibits - There is easy access to the restrooms, into the museum, and around exhibits.
The Chaw'se - The viewing platform at the chaw'se (grinding rock) is accessible. A video is also available.
Accessibility is continually improving. Call (916) 445-8949 for updates, or visit http://access.parks.ca.gov. Visitors with mobility issues may also contact the park before arrival at (209) 296-7488.
Dogs are Welcome
Leashed dogs are permitted in traditional campgrounds and in other designated areas. Dogs are not permitted on trails and in buildings.
Other Information and Resources
Read more of the history of Indian Grinding Rock State Historic Park.
Visit the California State Park webpage.
Read the 1984 Indian Grinding Rock State Historic Park General Plan.